Skip to Content
Palliative Care‎ Services in Mississauga, Toronto
Everest Home Health Care has become a leading provider of palliative care. As more health care providers understand the importance of removing the symptoms and stress of illnesses, our care staff provides relief to a wide range of illnesses.
When serious conditions take hold of people, palliative care can provide relief of pain and symptoms. The focus of palliative treatment is to remove the stress of any illness, rather than trying to cure it.
Palliative care emphasizes comfort and peace of mind for people and their loved ones. It can be applied at any stage of illness and to a variety of backgrounds. Conditions such as heart disease, cancer, Parkinson's, and Alzheimer's all benefit from quality palliative care.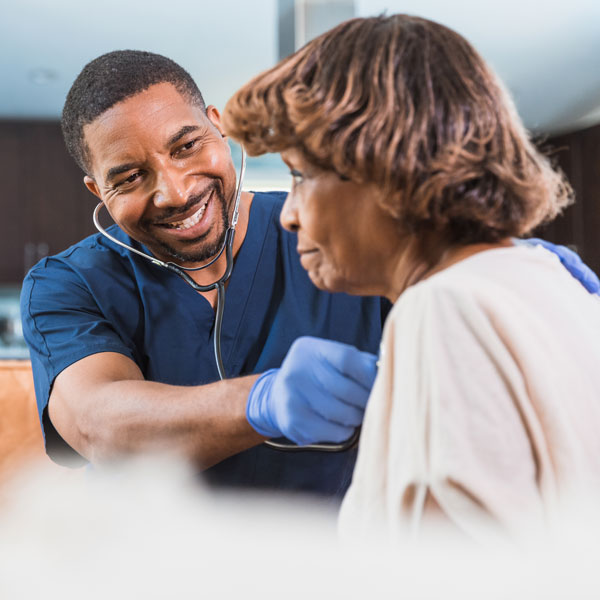 Relief of Symptoms
In more serious illnesses, symptoms such as pain, fatigue, nausea, and depression can add tremendous discomfort to an already difficult situation. We use palliative treatment methods to provide relief of these symptoms, while also guiding people and their families through the various and often difficult treatment choices.
Our team provides direct communication to help people manage the healthcare system while providing the emotional support needed through their illness. Palliative treatment is ideal for those who are dealing with chronic illnesses as well as people who are at the end stages of life.
Role of Personal Support Workers in Palliative Care
The purpose of palliative care is to relieve the suffering of individuals, minimize the symptoms of illness, and enhance the quality of life. Serious illnesses including cancer, Alzheimer's, Parkinson's, and others can benefit from high-quality palliative care.
Personal support workers play a vital role in palliative care and perform a number of duties that contribute to a comprehensive care program. They must have the skills for effective care including knowledge and personal attributes that contribute to the well-being of the individuals they care for.
The following are duties required for the palliative care of individuals suffering from serious health issues:
Assess and continually monitor symptoms
Administer medications according to protocols
Assist in the psychological and emotional stress of illness, while helping individuals and their families in the coping process
Provide interventions to alleviate symptoms
Maintain communication with doctors, nurses, agencies and other health practitioners
Assist with physical activity in and around the home
Personal care including bathing, grooming, and feeding
Providing comfort through massage and skin care
Monitor equipment
Assist individuals in preparing food and maintaining the home
Have the communication and listening skills to engage with individuals and their families in order to meet their needs
Support the independence of the individual while providing assistance
Be sensitive to cultural and religious preferences
Maintain the emotional balance to work through challenging transitions of illness
Help restore and maintain dignity and privacy while assisting in intimate care
Provide catheter, colostomy, and wound care when necessary
Collect specimens
Record and document valuable data for prompt assessment
Provide a comfortable and safe setting for the individual and family members
Accompany individuals to any required appointments
Assist in the care of pets or children
Comply with the code and ethics of all personal support workers
Contact Everest Home Health Care Today