Skip to Content
Alzheimer's and Dementia Care
Dementia & Alzheimer's Caregiver Care Toronto, Mississauga, ON
Caring for people suffering from Alzheimer's and Dementia requires time and patience from family and other care providers. In many cases, people with Alzheimer's cannot be left alone, requiring constant supervision, which can be difficult to provide long-term.
We understand the importance of providing the highest quality care for people who suffer from Alzheimer's and Dementia. Our staff provides the flexibility and patience that gives our clients and their families, the comfort and support they need during this difficult experience.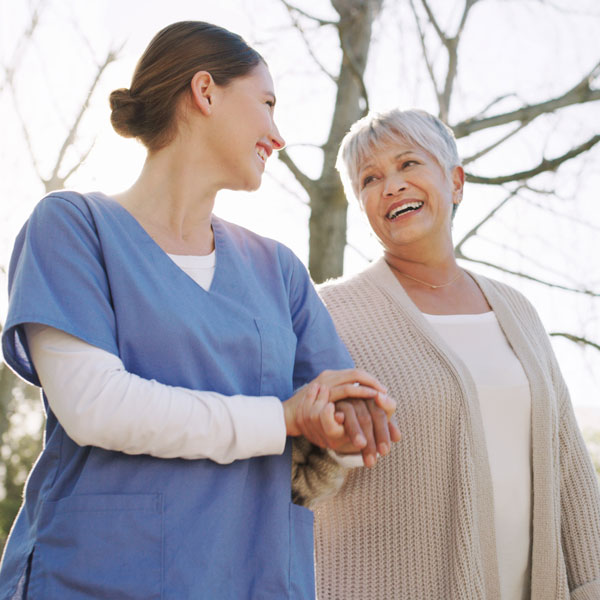 What Is Alzheimer's?
Alzheimer's is the most common form of Dementia, which gradually becomes more severe over time. Therefore, the needs and requirements of these individuals change throughout the progression, requiring caregivers to be conscious of how to best care for them at any given time.
In the early stages, people with Alzheimer's are still able to function independently. However, their ability to handle many ordinary tasks begins to decrease, which requires even more assistance. This can be difficult for the client and their family; causing them to become more frustrated over time.
Making Things Easy
There are many ways of caring for people with Alzheimer's and Dementia. Individuals who begin to lose cognitive abilities, need certain elements of their life to be easier. Our caregivers can help assist them to establish routines in order to reduce confusion and increase predictability.
Challenging tasks can be planned ahead of time, and completed at times that are easiest for the person. Our caregivers demonstrate patience when many activities take longer than usual. We make sure that those with Alzheimer's have the space they need to be involved in their daily activities as best as they can.
Alzheimer's and Dementia can lead to many different challenges for clients, family, and friends. To reduce the overwhelming stress that can occur, our caregivers can make sure that a balance is achieved for people to make the process easier for everyone.
By creating a supportive and compassionate environment, our caregivers ease the frustrations that individuals feel when routine activities become difficult. Coupled with clear communication and a daily routine, individuals can attain a new level of comfort moving forward in life.
Helping Loved Ones
Health issues can be difficult for both people affected and loved ones. Those who are responsible for caring for people at home can become overwhelmed and suffer their own challenges. Private in-home care can alleviate family members by providing the support needed to care for their loved one.
Contact Everest Home Health Care Today